Our recommended app for Android is Podcast Addict. It is free and available in the app store.
Press the plus sign in the top right corner to add a podcast. In the next screen, press the RSS icon at the top right: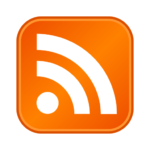 Copy link from the podcasts page on TheLivingTree and paste it here. If you are adding one of the password protected feeds, check the box next to "Authentication (Premium podcast)" and then add the username and password from the podcasts page (Remember: BOTH are case sensitive).
Tap the menu button and return to the main Podcasts page and you should see the newly added podcast category.